Commercial Plumbing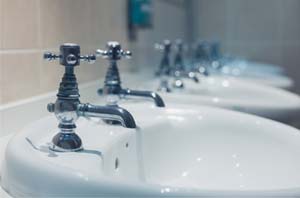 No business wants to discover a plumbing problem. The clogging and overflow make up just part of the picture; should the issue persist, your company or facility could face code and sanitation violations.
When you find your team in this situation, bring it to the attention of the professionals at M.J. Fahy. Operating since 1890, our team performs complete commercial plumbing services. Count on us for jobs large and small:
Designing and installing bathroom fixtures and facilities precisely to your specifications.
Evaluating hot water needs, such as professionally designing and installing an efficient, state-of-the-art water-heating system with oil, natural gas, propane, or indirect water heaters.
Designing and installing all types of sewage and effluent pumping systems.
Working on backflow protection devices. We're well-versed in cross connections and code requirements.
Keeping your sanitary and sprinkler systems up to date with the latest commercial code requirements.
Evaluating your needs to protect your employees' health and safety.
Installing new hot water heating systems to significantly reduce operating costs.
Protecting your roof from water damage, which saves you money long term.
Whether working with a single bathroom or a large commercial, industrial, or institutional building, we can install or fix:
Drains
Faucets
Toilets
Water heaters
Leaking plumbing and appliances
Sewer lines
Disposals
Grease traps
Sump pumps
Backflow preventers
For all, you can depend on us to complete the job with ADA compliance and code requirements in mind.
At the first sign, turn to our trustworthy, experienced team to get your facility back in working order. To schedule an appointment, get in contact with our Connecticut location.