Commercial Fire Protection Services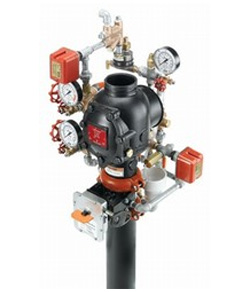 What's the first line of defense against a fire? Properly installed sprinklers and hydrants. Whether your building needs an upgrade or you need your existing equipment prepared, have M.J. Fahy keep you safe against a potential disaster.
As expert installers of all types of piping, our team handles wet and dry pipe, deluge, and pre-action fire suppression systems. Along with this, we're a member in good standing with the National Fire Protection Association and the American Fire Sprinkler Association (AFSA). This ensures we continue to be informed about the latest code requirements and regulations, and apply them to every job we do.
What can our team do?
We specialize upgrading existing buildings by retrofitting the existing sprinkler system.
We comprehensively and accurately test your existing fire protection system.
We can create CAD designs for all new construction, including for dry and wet sprinklers, stand pipe, pre-action systems, fire department connections, and backflow protection.
We handle sprinkler projects of all sizes.

We cost-effectively manage meeting all requirements.
We continue to maintain a top-notch reputation for quality installation and repairs.
We work with a range of devices:
All types of sprinklers
Water service for hydrants and backflow
A poorly-performing sprinkler system puts your building and your employees at risk. As the start to keeping everyone safe, schedule an appointment with our team today.